A message from the dean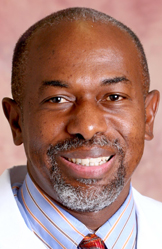 Dean James Hildreth
When Simon Chan passed away in 2012, the world lost a great figure in the scientific world. But more than that, it lost a beloved family member, dear friend and respected colleague.
Simon brought a unique energy and passion to his work that made a lasting impact on those who were lucky enough to engage with him. He endeavored daily to bring a novel perspective to his research and he approached his work with the goal of achieving something that was different and unique. In his own words, "Jazz is improvised, creative music and the hallmark of true greats is an instantly recognizable sound. In my science, I also try to do something creative and original, rather than reproducing what others have done before."
Without a doubt, Simon accomplished that goal. His discoveries were unexpected and groundbreaking and, true to his humanitarian nature, had an immediate potential to improve the production of staple food crops in some of the most impoverished areas of the world. Although still early in his career, he had already received prestigious recognition for his work, being selected for the first ever class of HHMI-GBMF Investigators in early 2012.
With the launch of the Simon Chan Memorial Endowment, Simon's work and legacy will live on in the College of Biological Sciences and the greater scientific community. A generous early contribution has already been made that will go towards funding graduate student research while we continue to raise money with the ultimate goal of establishing a faculty chair. Through this, we can create a living memorial to Simon and ensure that the spirit of his work continues to thrive.
I hope that you will take the time to read through this site and learn more about Simon's life and work.
If you have questions or would like more information about this endowment, please contact Daniel Isidor at dsisidor@ucdavis.edu.
Kind regards, James Hildreth