The Simon Chan Memorial Endowment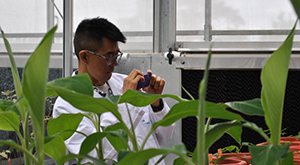 Simon Chan was a true humanitarian who impacted the lives of human beings across the globe—most of whomhe never had the chance to meet—by seeking to improve the quality of life for populations frequently impacted by drought, famine and loss of food crops. He was a mentor in his lab, helping to train and guide numerous young scholars to achieve their goals and make impactful discoveries. And, perhaps most memorably, his exhuberant smile made an impression on every person who was lucky enough to know or work with him.
Although we lost Simon far too soon, his discoveries and legacy will live on with the Simon Chan Memorial Endowment. Created initially to fund graduate student research, the Department of Plant Biology endeavors to raise $2.5 million to establish a faculty chair as well, ensuring that the spirit of Simon's work continues to thrive in our college.